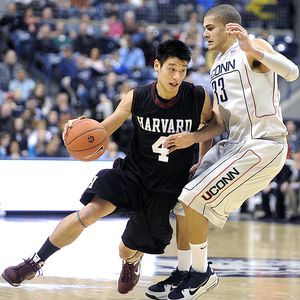 I love Jeremy Lin as much as the next guy (although it still upsets me that if
Chris Paul was a Laker
, Jeremy Lin would still be playing for my Houston Rockets) and I don't think this is a fluke. Jeremy Lin is really really good. But we should keep our expectations reasonable, and remember that, no matter how good he may seem against NBA teams that haven't practiced in 3 months, I'd still take 15 other PGs over him. Don't believe me? Here's the list:
Derron Williams: because he's stuck in Jersey, people forget that he might be the most talented PG in the game. Size, strength, speed, inside game, 3 pt shot, court vision, and defense. He has it all.
Derrick Rose: quickest player from the 3 point line to the rim in the league. Not to mention he's one of the
best finishers
in the league. His fight-for-everything underdog mentality is at the heart of everything the Bulls do.
Chris Paul: no one better at orchestrating an offense. The definition of a pure PG
Russell Westbrook: Westbrook makes
2 or 3 plays a game
that no other PG in the world could make. Rising star
Steve Nash: I don't care how old he is. Arguably the best shooter in the league, and if he's on your team, you're guaranteed to have a top 5 offense in the NBA.
Kyle Lowry: 16 points, 8 assists, 5 rebounds, and 2 steals is an average night for K-Low.
Best defensive PG
in the league.
Rajon Rondo - If only he could shoot the ball. Everything else is an A+.
Steph Curry - 17-7-4. I've always been shocked that everyone just forgot about Stephon once he got to the NBA. Maybe it's because he plays for the
Warriors
.
Kyrie Irving - Your rookie of the year. 19 ppg on 49% (that's higher than Tebow's completion percentage!) shooting and 44% from 3.
Rubio - You know about the passing, but he's also second in the league in steals. Lots of potential.
John Wall - stuck in a black hole, but he's still the fastest player from one basket to the other in the NBA. If only he had someone to pass the ball to.
Brandon Jennings - Only 22 years old, and averages 19 ppg. Doesn't always make the
best decisions
, but can fill it up with the best of them.
Jrue Holliday - The best player on the 20-13 Sixers. Could be a an even better socrer, but it spends the 3 quarters getting his teammates involved before taking over in the 4th.
Tyreke Evans - Maybe he doesn't like to pass the ball, but someone who averages 20-5-5 his rookie year has a long career in front of him
Kemba Walker, Brendan Knight, and Ty Lawson all could also have made the list.
So before we start demanding that Jeremy Lin wins championships or get disappointed when he doesn't average 25-11 for the rest of his career, let's try to keep things in perspective.