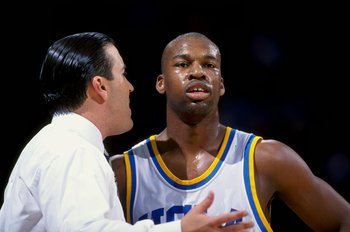 As the weekend approaches, so does the beginning of a new epoch in New York Knicks basketball -
the Baron Davis era
. Called everything from "The Modern Day Messiah" to a
"fat, injury prone knucklehead"
, Baron has been a polarizing figure from his days at UCLA not because of what he's done so much as what he's considered capable of. A superb athlete with a gift for getting into the lane and
5 Dollar Boxes
from Taco Bell, Boom Dizzle has drawn both the awe and ire of fans everywhere he's been - and he's been to quite a few places.
It's popular to
trade Baron Davis
; his reputation for enthusiastic starts and disdain for conditioning has made him the consummate trade bait, a player capable of generating unparalleled excitement around a basketball team when it's good. But he's also capable of drawing criticism when his team plays poorly, and just as he feeds off the energy of an enthusiastic crowd, he feeds off the unsold hot dogs and fries when attendance falls and interest wanes.
However, the truth is that Baron Davis simply doesn't love basketball, and that's meant in the most complimentary way possible. The game has been a means to numerous ends for him, ranging from sponsoring the
Nike of the East
to charity to his own clothing line. This is perfectly captured by his personal website,
Baron Davis' Boomiverse
, on which only a single link is related to his basketball career. In today's media saturated environment, we often expect athletes to love what they do; they play a
children's game
and earn
a man's wage
, traveling to exotic locals such as
Cleveland
and
inspiring generations of children
with their heroics to do what they love. But perhaps Baron Davis is a different kind of hero, a hero for not embracing the mainstream. His charitable work is admirable, and he has used his platform as an athlete to both spread awareness about important issues and do what he does love: fashion, creation, interaction with fans. So what if he isn't around for extra wind sprints?
Baron is slated to make his Knicks debut
any day now
and with the team slumping his impact, positive or negative, will only be amplified. In the coming months many fans will rise with him to epic highs, and decry some epic lows. In all of this, I only urge fans to remember who Baron the person is, and that the same obsessive quality he lacks in basketball has allowed him to do good for others, and lead a happier, more fulfilling life. If that's not the
boom dizzle
, I don't know what is.
Joe Silvestro is a regular contributor to Sports Casual, check back every Funday Friday for his witticisms concerning the Wide World of Sports. Email him at jsilvestro21@gmail.com