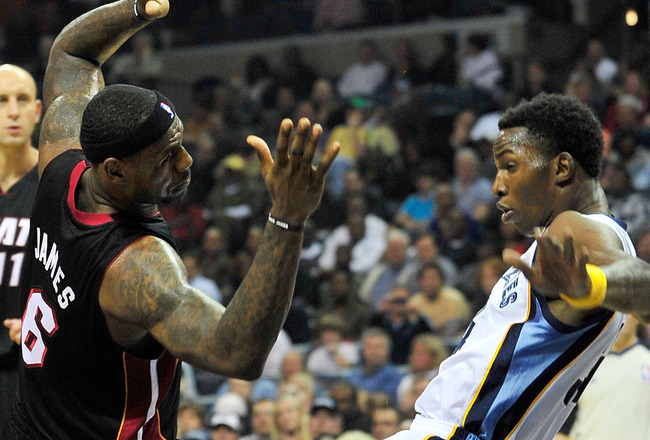 (In case you've never heard
this story
...)
Hasheem Thabeet
is the worst player in the NBA. Let's see if we can turn Thabeet into a superstar and Houston into a winner. Ignore rules about not being able to trade a player you just traded for (if that rule even exists). Every trade works in the ESPN NBA Trade Machine.
1)
Thabeet
to Toronto for Linas Kleiza - Former all star Jamal Magloire (
can you guess which year?
) is Toronto's backup center. They have to take a chance on Thabeet.
2) Kleiza to Denver for
Chris Anderson
- Kleiza returns to Denver where he had great success, while Denver dumps one of their 4 centers.
3) Chris Anderson to the Pistons for Jason Maxiell - Detroit is last in the NBA in blocks. Enter
Birdman
.
4) Jason Maxiell's expiring contract to the Suns for Channing Frye - It's time for the Suns to rebuild. Channing has 4 years left on his contract. Sell high.


5) Channing Frye to Atlanta for Marvin Williams - Atlanta is 2nd in the East, but Horford is out for a while. They need a center now if they want to keep one of the top seeds. Crunchtime five of Josh Smith, Horford, Frye, Johnson, and Teague could be dangerous. Williams also makes 2 million more per year.


6) Marvin Williams to the Clippers for Mo Williams - Clippers have too many guards and not enough depth. Marvin gives them flexibility, depth at both forward positions, and a nice fit next to Chris Paul.


7) Mo Williams to the Dallas Mavericks for Jason Kidd -
Jason Kidd
is shooting 26% and averaging 4 points a game. He's finally too old. If the Mavericks want another shot at a title, they need to change something up and upgrading the backcourt may be the best move.
8) Jason Kidd's expiring contract ($10 million) to the Hornets for Emeka Okafor - The Hornets can now go into the off-season with almost $40 million coming off the books.


9) Emeka Okafor to Cleveland for Antwain Jamison -Cleveland has a nice young group of talent with Tristan Thomas and Kyrie Irving. Emeka would be a nice veteran presence on a team that doesn't really have a Center.


10) Antwain Jamison's expiring contract ($15 million) to the Spurs for Tony Parker - Eventually, the Spurs are going to have to decide to rebuild. With Manu Ginobili hurt, this should be it.


11) Tony Parker to the Suns for
Steve Nash
- Steve Nash is finally freed. Phoenix gets the 29 year old
French
point guard to take the offense over for the next four years of his contract.
12)
Steve Nash
to the Los Angeles Lakers for Andrew Bynum - Kobe may not have many years left. It's now or never. I don't care about Andrew Bynum's potential. Right now, he is not as good as Steve Nash. In the last five minutes of a playoff game, I'd rather have Nash, Bryant, Gasol than Bryant, Gasol, and Bynum.
13) Andrew Bynum to Orlando for Dwight Howard - Orlando finally gives in and accepts that Howard is not going to resign. Orlando builds around Bynum over the next 10 years.


14) Dwight Howard to the Heat for Lebron James - I think Lebron is the best player in the world, but this trade makes Miami better. Chalmers, Wade, Battier, Bosh, and Dwight would be a nightmare offensively, defensively, and on the boards. The only reason they would never do this?
This
.
And there you have it. The Houston Rockets turn Hasheem Thabeet into Lebron James, and go on to win the NBA Championship.