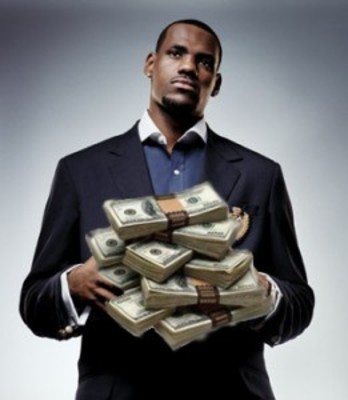 As news of a collective bargaining agreement between the NBA and the NBPA sweeps across the nation and sports columnists, TV network executives, and Kobe Bryant bashers breathe a sigh of relief, there is one important issue that remains uncovered. While the media has covered the details of the new CBA extensively and have begun to illuminate the new 2011-2012 season schedule, little has been said of the players themselves. While agents and advertisers have started to talk in definitive terms about the prospect of a new season, players themselves are more hesitant.
"At first I was disappointed, sure," said Celtic forward Kevin Garnett, "but I was really getting used to the idea of going a whole year without basketball. I was all ready to cozy up on my couch, grab my DVDs, and watch a Burn Notice marathon with director's commentary on Christmas Day. Now I'm being told that I'll have to chase aggressive, sweaty men for over 2 hours."
Mr. Garnett was not alone. One Landry Fields had told reporters that he was "all ready to put [his] Stanford degree to good use" when asked by an excited gaggle of reporters if he would be prepared for the regular season. Said Fields, "several marketing firms tried to hire me this offseason. I thought I was getting an endorsement, but then they explained to me that they wanted to pay me a 6 figure salary to sit around an office making powerpoints all day. That sounds way easier than trying to play defense." Continued Mr. Fields, "apparently, Stanford University is a pretty good school. Who knew?"
While the thought of ignoring professional basketball to focus on "other, more important things, like my rap career" is tantalizing, according to Suns' point guard Steve Nash, "I guess I just have to get back out on the court and have thousands of people I don't know jeer at me and accuse me of being 'the beneficiary of subtle racial bias.'"
Even legendary Center JaVale McGee had started to adjust to life without basketball. "Me want play basketball next year, play modern warfare 3 this year," he asserted when reached for comment.
Although many players had been using their time off for personal betterment, countless others have taken this opportunity to give back to their respective communities. Several members of the Miami Heat have even begun developing an acute interest in politics, and have become a part of the famous "Occupy Wall Street Movement." Center Chris Bosh read several books and scholarly papers on the American political system over the summer, and he was immediately transfixed. "It is an incredibly unjust country that we live in," said Bosh, while speaking from a podium at Zuccotti Park, "and the more that I have studied it, the more I have realized that we need change on a structural level before we can even begin the healing process." Bosh's voice dropped momentarily as he affirmed his solidarity through muffled sobs, "I am the 99 percent.
However, the prospect of a work stoppage was not met with optimism by all NBA players. After Bosh's speech drew thunderous applause, there are reports that a 6'8" man named LeBron emerged in riot gear and began pepper spraying women and small children while screaming, "Why have you people stopped throwing buckets of money at me? I am the 1 percent!" LeBron has said that he is anxious to resume playing basketball.
At press time, it is unclear if the NBA will play the 2011-2012 season.